Fundamentals of Switches: Series 1
When you think of a switch, what exactly comes to mind? Most of us think of a switch as something you use to turn the power on and off.
1. What exactly is a switch?
When you think of a switch, what exactly comes to mind? Most of us think of a switch as something you use to turn the power on and off. But a switch is more than this. Indeed, the core meaning of the word "switch" is to change quickly from one state to another. Many electronic switches, as opposed to simple power switches, achieve this by switching between two different circuits.
2. On and off---part 1
A light bulb will light up when you connect it to the electrodes of a battery. This constitutes a closed circuit, also known as "on" status. If you remove one of the wires from the battery, the light goes out. This is an open circuit or "off" status.
3. On and off---part 2
A closed circuit is said to be on, while an open circuit is off. An open circuit is a circuit that has a break or disconnect at some point. In switch terminology, the act of turning a switch on is called making the circuit, while turning the switch off is called breaking the circuit. A make is when the switch contacts are together, a break is when they are apart.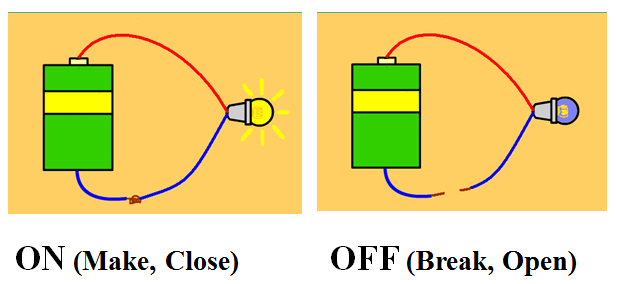 4. The origin of switches
The first switches were simple tapping devices used to generate Morse code, the series of dots and dashes commonly associated with the emergency SOS signal. When radio was invented, it required a new type of switch similar to the modern toggle switch to operate the vacuum tubes. This prompted the development of many new types of switches.
5. Manual vs. detection switches
Switches can be broadly divided into two categories: manual switches and detection switches, which are designed to detect movement. The switch that turns the light on inside the refrigerator when the door is opened is an example of a detection switch. NKK supplies manual switches only.
6. Types of switches---part 1
Manual switches are designed to be used by an operator. They are classified by the shape of the switch and the action required to operate it. Common types of manual switches include toggle switches, rocker switches, pushbutton switches, rotary switches, slide switches, keylock switches and tactile switches.
7. Types of switches---part 2
Toggle switches are so named for the lever, or toggle, that protrudes from the switch body. Rocker switches rock from one side to the other like a rocking chair. Indeed, the internal mechanism is curved like the underside of a rocking chair. Rocker switches are also known as tumbler switches.
8. Types of switches---part 3
Pushbutton switches are the most familiar type, and are operated by pushing, as the name suggests. Similarly, rotary switches are operated by rotating the switch to open or close a circuit or switch between circuits. DIP rotary switches can be used with digital circuits. Slide switches are operated by sliding, and DIP-slide switches are suitable for used with digital circuits.
9.Types of switches---part 4
Keylock switches require a key to operate and provide extra security, since the switch cannot be operated without the key. Tactile switches are pushbutton switches that have a short stroke and provide a definite click response when depressed, such as the keys on a computer keyboard. This response is called tactile feedback.
10. Switch design
The contacts are the heart of the switch. A switch has two contacts: the fixed contact, which remains fixed to the switch housing, and the movable contact, which moves when the switch is operated. When the movable contact touches the fixed contact, an electric circuit is formed and the current flows; when the movable contact separates from the fixed contact, the circuit is broken. One of the most common switch designs is the see-saw design, where the movable contact tilts back and forth like a see-saw.
11. Switch terminology: throw
The expression "throw a switch," meaning to turn the switch on, is often heard in relation to toggle switches in particular. It turns out that throw is also a technical term for switches, although the meaning is different. "Throw" refers to the number of circuits controlled by the switch, as in single-throw, double-throw and triple-throw switches. A single-throw switch is used for switching a single circuit on and off, a double-throw switch is used for two circuits, and so on. Standard switches are configured as on-off. On-on switches are double-throw. Although an on-on switch appears to have no off position, it is actually a combination of two on-off switches configured in opposing directions. Double-throw switches can be used equally as single-throw switches. Triple-throw on-on-on switches that control three circuits are fairly rare. These are normally configured as toggle or slide switches, working on the same principle as a traffic light.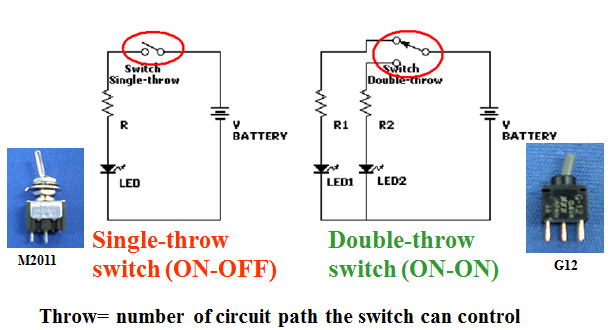 12. Switch terminology: poles
The number of poles is the number of circuits controlled simultaneously by the switch. This is similar to throw, but with the additional concept of simultaneous control. An example of a double-pole switch is the on-off switch in a music player that controls the signal to the left and right speakers simultaneously. Power switches often use a double-pole configuration. Three-pole and four-pole switches control three and four circuits respectively.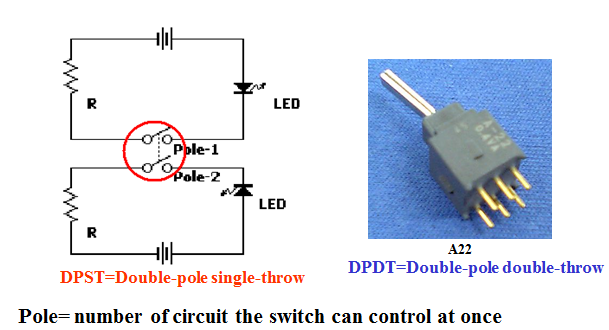 13. Switch terminology: poles and throws part 1
Switches can have various combinations of poles and throws. The most basic on-off switch controls one circuit only and is therefore known as a single pole, single throw (SPST) switch. A switch with two poles and two throws is called a double pole, double throw (DPDT) switch. Other combinations include single pole, double throw (SPDT) and three poles, double throw (3PDT).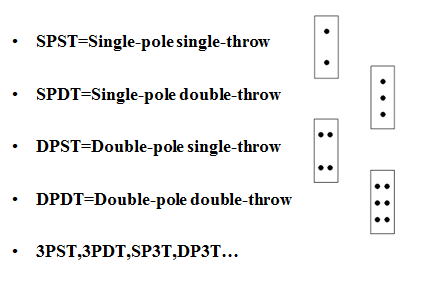 14. Switch terminology: poles and throws part 2
A single pole switch with one throw requires only two terminals. A double throw (on-on) switch has three terminals. A double pole, double throw terminal has 2 x 2 = 4 terminals. Rotary switches have more terminals than other types of switches. Because of their nature, rotary switches are not defined in terms of the number of throws and poles, but rather the number of circuits and contacts. Thus, a rotary switch with three poles and three throws is said to have three circuits and three contacts.
15. Switch terminology: alternate vs. momentary
The terms "alternate" and "momentary" are used to describe the action of pushbutton switches. Alternate action refers to a switch that alternates between two different states, typically on and off. Thus one press of the pushbutton turns the switch on, and another turns it off. Most early switches were like this. More recently, we have seen the advent of alternate action locking pushbutton switches, where the first press locks the button down in the on position and the second press releases the button and returns it to full height. A more common type of pushbutton switch is the momentary action switch, which remains on only for as long as the button is depressed. Once the button is released, the switch reverts to off status. (Momentary action switches may also be configured in the reverse manner, so that the switch goes off when pressed.) Some toggle switches also use momentary action. Momentary action is frequently denoted with brackets, as in (ON) or .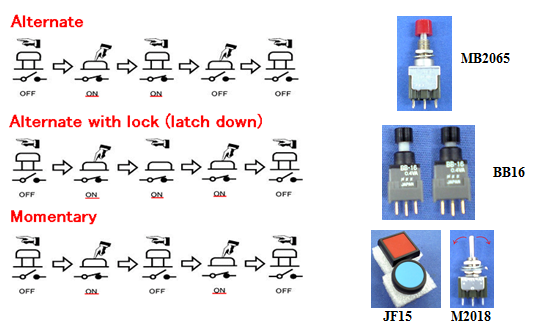 16. Switch terminology: N/O vs. N/C
Momentary pushbutton switches can be configured in two ways: normally open (N/O), where the switch remains open (i.e., off) until the button is pressed, and normally closed (N/C), where the switch remains closed (on) until the button is pressed. Some switches with three terminals will have separate N/C and N/O terminals in addition to the common terminal, allowing a choice of configurations. Thus when the common and N/O terminals are connected, the switch is normally off, and when the common and N/C terminals are connected, the switch is normally on.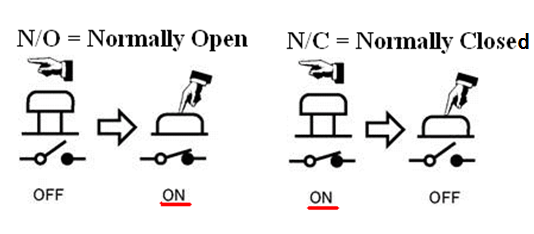 17. Switch terminology: shorting vs. non-shorting
Another important piece of terminology for switches is the distinction between shorting and non-shorting switches. This applies mainly to rotary and slide switches. In a shorting switch, as the movable contact shifts between two fixed contacts there is a brief period when it is in contact with both fixed terminals, creating a short-circuit. In a non-shorting switch, the movable contact disengages from both fixed terminals during movement, preventing the potential for a short-circuit. Shorting switches are used in devices such as electrical testers where the switch needs to be connected to at least one fixed contact at all times in order to prevent overvoltage in the circuit being measured. Shorting switches are also known as "make before break" switches because the contacts come together before separating; non-shorting switches are called "break before make" switches because the contacts separate before coming together.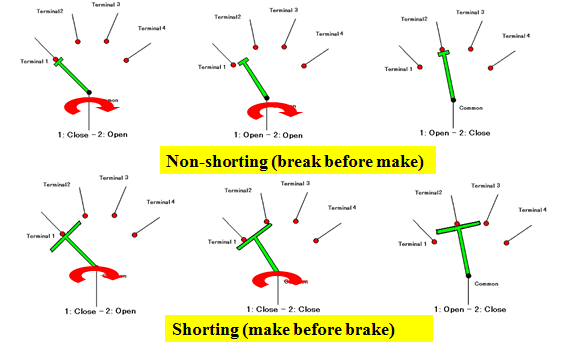 18. Switch terminology: position
A toggle switch with two positions is called a two-position switch. A toggle switch with three positions is called a three-position toggle switch. While the number of positions may seem similar to the number of throws, they are not the same thing. A single pole double throw switch, for example, can have two positions (on-on) or three positions (on-off-on).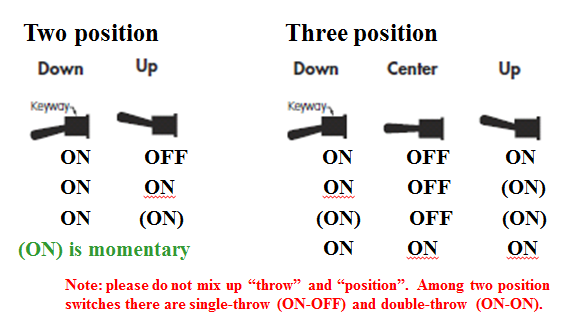 19. Switch functions
M series toggle switches are available in single and double throw formats and nine function classifications, called types 1, 2, 3, 5, 8 and 9 (general-purpose circuits) and 0, 08 and 09 (special-purpose circuits). This provides a wide range of combinations to suit a variety of applications. Type 1 is a single throw on-off switch; type 2 is a double throw on-on switch; type 3 is a double throw three position on-off-on switch; type 5 is an on-(on) switch, and so on. Full details are provided in the catalog.
20. Switch controls---part 1
The switch control is the part of the switch that is used by the operator. Switches come in many different shapes, styles and configurations to suit different applications and personal preferences. A standard toggle switch, for instance, has a lever (sometimes called the bat because of the distinctive baseball bat shape). Toggle switches can have a variety different controls, such as a lever cap, a shorter or longer bat, a flat lever (long or short), or even a lever lock (a bat with a locking mechanism to prevent accidental operation). It is also possible to get a larger bushing on the panel, with a choice of imperial or metric screws.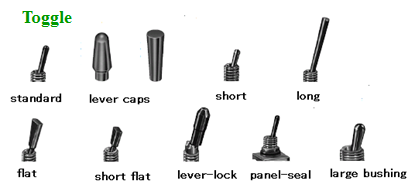 21. Switch controls---part 2
Rocker switches, also known as paddle switches because of the shape, usually take either a T shape or reverse Y shape. Rocker switches sometimes have an additional barrier to protect the switch from being hit or touched accidentally.

22. Switch controls---part 3
Pushbutton switches are probably the most familiar type of switch, with the standard push button operation. Some pushbutton switchers actually have a plunger rather than a button inside; these are usually custom designed for specific applications. Pushbutton switches can be fitted with barriers to prevent accidental operation, such as a raised ring around the button or a cover that closes over the switch. Where cover closes automatically the switch is known as a spring back switch.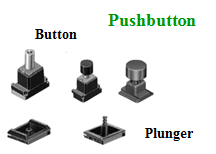 23. Switch controls---part 4
DIP rotary switches tend to be operated less frequently than other types of switches. They are often used for digital circuit initial settings, for instance. Some DIP rotary switches are designed to be operated with a screwdriver, while others require an external knob or dial that is attached to the shaft.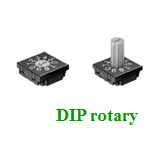 24. Switch terminals---part 1
Every switch requires wires that are connected to the terminals. Most terminals are soldered terminals, where the wire is inserted into a hole in the terminal plate then soldered in place.

25. Switch terminals---part 2
Crimp terminals, also known as solderless terminals, use pressure to assure the connection to the terminal. The male terminal is sometimes called the TAB or Faston terminal, while the female terminal is called the receptacle. Some switches have dual-purpose terminals working as both TAB and solder terminals.

26. Switch terminals---part 3
Some switches are specially designed for mounting on printed circuit boards, with PC terminal pins spaced at precisely 2.54 mm. If the circuit board is oriented vertically and the switch is accessed from the top or side, the switch may have terminals that are bent on the horizontal (H terminals) or on the vertical (V terminals). Some switches are fitted with reinforcing brackets and terminals. On B series switches, which are made of conductive resin, the bracket also acts as an earth to dissipate static electricity from the switch body.
27. Switch terminals---part 4
Some switches are specifically designed for mounting on the surface of printed circuit boards. They generally have special J-lead or gull-wing terminals, and will often come with brackets.

28. Switch terminals---part 5
Screw terminals, where the wires are screwed firmly into the terminals, are often used on switches that handle high current levels.
29. Switch mountings---part 1
Switches may be panel mounted or PCB (printed circuit board) mounted. Toggle switches are commonly panel mounted. The switch is inserted from below into a hole in the panel with the bushing and secured with a nut on the panel face. A claw washer with teeth facing the rear of the panel helps to prevent rotary movement. Switches without bushing can be panel mounted using screws. Some rocker and pushbutton switches are snap-in type, which are lowered directly into a square hole in the panel and snapped into place with an audible click.

30. Switch mountings---part 2
Switches are mounted on printed circuit boards via insertion or surface mounting with solder. This approach establishes the terminal connections while at the same securing the switch in place.